The first Jew arrived in Williamsport in the late 1830's. Most Jews that emigrated in the 19th century were peddlers who later became the founding merchants of the community. By the turn of the century, it became abundantly clear that an Orthodox synagogue needed to be established and in 1905 "Williamsporter Judische Orthodox Ohev Sholom Gemunde" was incorporated. The newly formed congregation rented a small wooden building at Elmira Street and Erie Avenue for regular services and rented out larger venues for the High Holidays.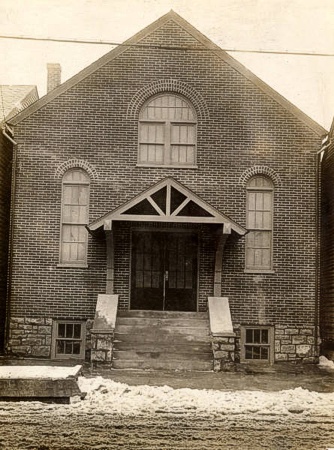 By 1910, the growth of the congregation made it necessary to provide a suitable house of worship. In 1913, a plot of land was purchased on West Edwin Street and by 1915, our first synagogue was built complete with Mikveh. In 1917 a cemetery was added. By 1930 an annex was completed and the new synagogue was able to serve as both a religious and a social center. In 1943, the congregation adopted "Ohev Sholom" as its official name and joined the Union of Orthodox Congregations.
In 1948, because of the increasing size of the congregation, it was decided to build a new building and on June 14, 1950 ground was broken at the synagogue's present site at Cherry Street and Belmont Avenue. The synagogue was dedicated on September 16, 1951. The new facility included a beautiful sanctuary with a hand carved oak Aron Kodesch, a modern kitchen, classrooms, office, multi-purpose room and a mikveh. It was also decided at this time to become a "traditional" synagogue with mixed and separate seating.
The synagogue continues to thrive into the 21st Century providing services and serving the needs of the local Jewish community.